Why have we chosen the name, Quartet Exquis? Is it because we think we play 'exquisite' music?
Well, that may or may not be the case, but it is not the exact reason. No, the word 'exquis' is a reference to a word game called 'Cadavre Exquis' that was devised by the Surrealist art movement. Each participant in 'Cadavre Exquis' could add only single word, not knowing what word had preceded their own. There were simple rules. The words would have to conform to a regular pattern - an adjective, followed by a noun, followed by an adverb, followed by a verb - for instance. The result, so typical of the Surrealist spirit, were fantastical juxtapositions, hilarious jumps of logic.
Quartet Exquis use a similar process of composition, playing without knowing what the other members of the quartet have contributed. How or why do we do this? The Portuguese contrabass player, João Madeira has long been fascinated by the Surrealists, and derived the idea for this project as a musical equivalent of Cadavre Exquis. When the lock-down caused by Covid-19 ravaged the live music scene, he invited three musicians to join him in a recording project based on this idea: cellist Helena Espvall, clarinettist AnnaMarie Ignarro, and Noel Taylor on bass clarinet, joined with him to implement this experiment. All four of the quartet are experienced improvisers.
What were the 'simple rules' that we followed to make our recordings? We began with each member making a solo recording, and then sending that in turn to each of the other three. Each player responded to the solos, without knowing the response of the other two, and then sent back their own individual track to João Madeira, who assembled the four pieces of music together.
We then decided to make a piece of music where we had no idea whatsoever what the other person was playing, apart from the tempo, which was set. Then, in a final evolution, we decided to emulate the classic ABA form by using two tempos - fast, slow, fast - but still following the same principle of not knowing what the others had contributed . Helena Espvall and AnnaMarie Ignarro provided the A section, and we all collaborated on the B section. To balance the contributions of the four members, João Madeira and Noel Taylor were combined together at a specified tempo, as if playing a duet.
We were amazed by the outcome of this process. Listening to the music that resulted, we feel that we have stumbled on a method of collective composition that is entirely novel and distinct, both from collective 'free improvisation' performed in the moment, and the traditional 'heroic' individual composer working on his/her own. Without the pandemic during 2020, and the resulting restrictions, we doubt whether this would ever have happened.
We are currently finalising the CD with the title, 'Da Multiplicidade do Vácuo'.
It will be released on the citystream label on 04/12/2021
Em Português
Porque escolhemos o nome Quarteto Exquis? Será porque achamos a música que tocamos esquisita?

Poderia até ser este o caso, ou não ser de todo, contudo não será a razão principal.
A palavra "exquis" é uma referência direta ao jogo literário chamado de "cadavre exquis", preconizado pelos surrealistas franceses no início do sec. XX. Ao desenvolver um texto em forma de "cadavre exquis" cada participante acrescentava uma palavra ou parte de uma frase, sem saber o que os outros participantes escreveram antes. Podiam ser tidas em conta regras como manter a sintaxe normal de uma frase, por exemplo: um adjetivo precedido por um nome, precedido pelo artigo definido, ou verbo precedido por um advérbio, etc... O resultado de um texto construído desta forma, típico do espírito criativo do surrealismo, é a justaposição fantástica de diversos sentidos, saltos hilariantes na lógica do conteúdo do texto.

O Quarteto Exquis usou um processo semelhante, na composição da sua música, sendo que cada membro tocou sem ter ouvido a contribuição musical dos outros participantes. Porque decidimos fazê-lo? O contrabaixista português João Madeira, sempre fascinado pelos autores surrealistas, desenvolveu a ideia de um processo de composição musical equivalente ao "cadavre exquis". Quando o confinamento devido ao Covid 19 veio suspender toda a actividade de concertos e música ao vivo, João Madeira convidou 3 músicos a juntarem-se a ele na aventura que seria gravar um disco com este procedimento, - a violoncelista Helena Espvall, a clarinetista AnnaMarie Ignarro, e Noel Taylor no clarinete baixo. Todos os quatro músicos são improvisadores natos e com muita experiência nesta área.

Qual foi então o método para construir cada uma das faixas deste álbum? Iniciámos com a gravação de um solo por parte de cada instrumentista e enviado depois para os outros três. Cada um desses três músicos gravou a sua contribuição para esse solo, sem ter ouvido a contribuição dos outros dois, e no fim deste processo, João Madeira sobrepôs as 4 faixas.

Os quatro músicos decidiram depois criar uma faixa de música na qual nenhum deles sabia, de todo, o que os outros tinham tocado/gravado, exceto a predeterminação de uma pulsação de base. Numa fase final, decidiram também criar uma faixa com a forma clássica de ABA usando duas pulsações diferentes em cada andamento, - rápido, lento, rápido - sempre seguindo o mesmo princípio de base: o de cada um gravar/tocar sem ouvir os outros. Helena Espvall e AnnaMarie Ignarro contribuíram para as secções A, e todos colaboraram na secção B. Para contrastar com este dueto, João Madeira e Noel Taylor planearam uma faixa em dueto também, na qual uma pulsação específica foi a única base.

O resultado deste processo foi de facto surpreendente para os 4 músicos. Ouvindo o resultado final, concluíram ter logrado encontrar um novo e distinto método de composição coletiva, cujas raízes remontam quer à improvisação livre, quer à tradição ocidental do compositor solitário que compõe por sua conta e risco. Sem a pandemia de 2020, e todas as restrições que dessa pandemia resultaram, talvez este disco não tivesse sido feito, muito menos desta forma.
.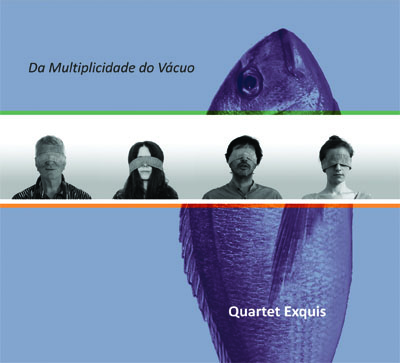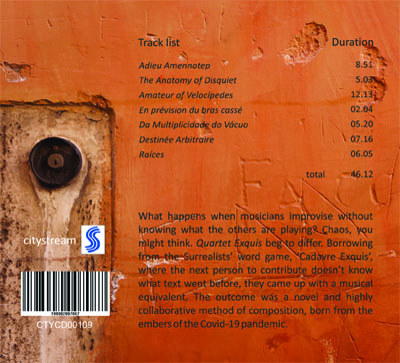 All compositions by AnnaMarie Ignarro, Noel Taylor, Helena Espvall e João Madeira.
Home recording - Lisbon, Carcavelos, Brussels, 2020
Mix and Master by João Madeira.
Design by Noel Taylor.


Produced by João Madeira & citystream, 2021
Purchase using Paypal
Compra usando Paypal