The secret of listening to this album is to remember how it was made.
Why?
Normally, improvisers hear cues from each other's playing - a tone, a pitch, a texture, a suggestion of melody, a hint of the underlying rhythm or pulse. Improvisation is most frequently a collective experience, and the pleasure of creating something together in real time is what lends the process such vitality and excitement. The pleasure of listening to such music derives from the choices each musician makes. In this case, however, each player made their track in complete isolation, not knowing what the others had played.
Four of the tracks - track(2) bass-clr (Noel Taylor); track(3) cello (Helen Espvall); track(6) d.bass (João Madeira); track(7) clr. (AnnaMarie Ignarro) - are based on solos, made by each player and sent to the remaining three. For these tracks, there were cues in the solo, but not of a collective nature, such as when you are all playing together in the same space. Each person recorded their response to each solo, not knowing how the others had responded, and sent them to João Madeira. João Madeira then combined the four tracks, as if we had all been together in the same space. So, in this case, the pleasure of listening is in understanding how the musicians could possibly play pieces of music that sound as if we were responding to each other, all playing in the same room, when, quite patently, we were not.

The next step was to make a piece of music where only the tempo was set, but without a proscribed key, style or pre-made content. No-one had any idea whatsoever what the other three people would play. This resulted in the track(4) and the title track(5), 'Da Multiplicidade do Vácuo'. In a final evolution, they emulated the classic ABA form by using two tempos - fast, slow, fast - using the same principle of not knowing what the others had contributed: track(1).
The results can sometimes be very surprising, despite the autonomous method of the way the CD was constructed, with frequent little miracles of juxtaposition and synchronicity. Perhaps it's also worth bearing in mind that the musicians had, to a degree, developed an understanding of each other's sensibilities, through the experience of playing together before the start of the pandemic.
Quartet Exquis have unearthed a radical method of composition lying among the embers of the Covid-19 crisis..
Em Português:
Como foi construído o álbum "A Multiplicidade do Vácuo"
Para uma melhor experiência de audição deste disco, o segredo é lembrar a cada momento, durante essa audição, como cada uma das faixas foi construída.
Porquê?
Normalmente, os improvisadores trocam impulsos e motivos musicais que influenciam mutuamente o conjunto enquanto tocam juntos - uma nota, um tom, uma textura, a sugestão de uma melodia, o relance de uma pulsação. A improvisação livre resulta, na maior parte das vezes, de uma experiência coletiva, e o prazer que decorre de criar algo em conjunto e em tempo real é o que confere a este processo a sua vitalidade e genuinidade. Quanto ao prazer em ouvir este género musical, este advém da constatação das escolhas e decisões dos músicos no momento em que tocam juntos, ou seja, em tempo real. Neste caso, contudo, cada instrumentista criou o seu 'take' isolado dos restantes, sem ter qualquer conhecimento do que os outros teriam escolhido e decidido tocar.
Quatro das faixas deste álbum - faixa 2 clarinete-baixo; faixa 3 violoncelo; faixa 6 contrabaixo; faixa 7 clarinete - basearam-se em gravações a solo, que cada um gravou e enviou para os restantes. Estas faixas a solo continham já motivos e ideias para os 3 músicos, mas não de natureza coletiva, como quando tocam juntos no mesmo espaço físico. Cada instrumentista gravou a sua 'resposta', sem saber o que os dois restantes 'responderam' ao solo inicial, e enviaram para João Madeira, que reuniu os 4 'takes' como se os quatro se encontrassem no mesmo espaço quando gravaram/tocaram. Daí que o prazer de ouvir este disco reside em compreender como foi possível para os músicos terem criado música que soa como se estivessem a 'responder' aos impulsos de uns e outros, a tocar no mesmo espaço, na medida em que não estavam.
O próximo passo foi criar uma música em que a pulsação foi previamente definida, mas sem tonalidade ou qualquer outro parâmetro predeterminado. Nenhum instrumentista teve qualquer noção do que os outros três tocaram. Daqui resultaram as faixas 4 e 5. Para um desenvolvimento final deste processo, adotámos a forma clássica ABA, - faixa 1 - recorrendo a duas pulsações diferenciadas - rápido, lento, rápido -, seguindo o mesmo princípio de não ter qualquer noção do que cada um gravou.
Os resultados, à medida que ouvimos este disco, podem ser por vezes verdadeiramente surpreendentes, tendo em conta o método de autonomia e isolamento levado a cabo, oferecendo frequentes 'pequenos milagres' de justaposição e sincronia. Consideramos que se deverá ter em conta também o facto de os músicos terem experienciado já um conhecimento da sensibilidade musical de cada um, através dos inúmeros momentos em que tocaram juntos, antes da pandemia.
O Quarteto Exquis preconiza um método de composição-em-tempo-real, em suma, radical, como reação aos tempos sombrios da crise mundial do Covid 19.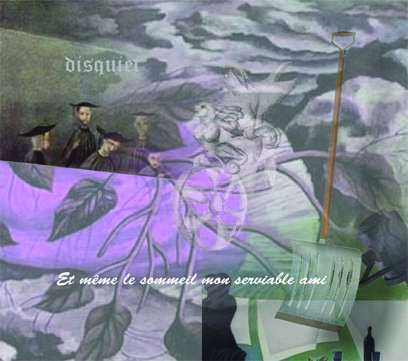 Each member named their own solo track, based on the works of artists associated with the Surrealist movement.
Helena Espvall chose the work of Leonora Carrington, 'I am an Amateur of Velocipedes' - shortened to 'Amateur of Velocipedes'
João Madeira chose a poem by Robert Desnos, 'Destinée Arbitraire'.
Noel Taylor made a fictional title, reminiscent of Pessoa's 'The Book of Disquiet', 'The Anatomy of Disquiet' .
AnnaMarie Ignarro chose the work of Frida Kahlo entitled 'Raices'.


The remaining tracks were named by consensus:

The duo between João Madeira and Noel Taylor, was named after the work of Marcel Duchamp, entitled 'En prévision du bras cassé'.
The opening track of the album, which takes an ABA form, was named after another work by Leonora Carrington, 'Adieu Amennotep'.
The album title, as well as the track which pursued the concept to its logical conclusion was named after the Portuguese artist, Cruzeiro Seixas, and his work entitled 'Da Multiplicidade do Vacuo'.
Em Português:
Cada membro do quarteto deu o título à faixa para a qual gravou o solo de base, inspirado pelas obras dos artistas surrealistas dos vários quadrantes.
Helena Espvall escolheu o título da obra de Leonora Carrington, "I am an amateur of Velocipedes", encurtado para "Amateur of Velocipedes".
João Madeira recorreu a um poema de Robert Desnos, "Destinée Arbitraire".
Noel Taylor reelaborou um título de Fernando Pessoa, "The book of Disquiet" em "The Anatomy of Disquiet".
AnnaMarie Ignarro selecionou a obra "Raízes", de Frida Kahlo.
As restantes faixas foram nomeadas por consenso.
O duo de João Madeira e Noel Taylor, foi nomeado a partir da obra de Marcel Duchamp, "En prévision du bras cassé".
A faixa de abertura do álbum, com a estrutura de ABA, recorre ao título de outra obra de Leonora Carrington, "'Adieu Amennotep".
O título do nosso disco, bem como a faixa homónima, que representa o derradeiro processo de composição utilizado nesta metodologia, retoma o título de um dos maiores pintores surrealistas em Portugal, Cruzeiro Seixas: a tela "Da Multiplicidade do Vácuo".