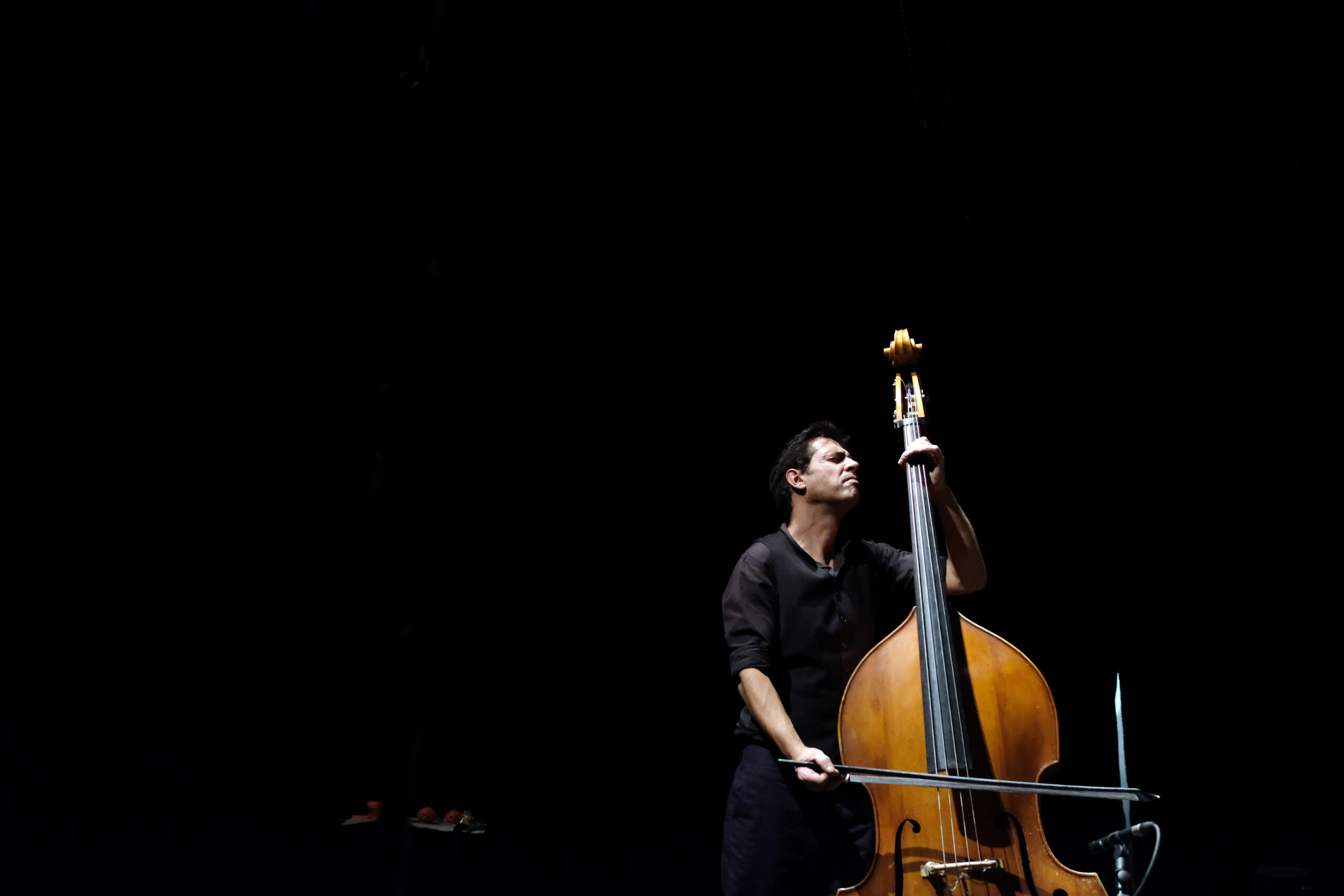 João Madeira began studying double bass at the age of 12 years old, and completed his degree in Musicology in 2002. His knowledge of ethnomusicology provided valuable research to the team that secured Fado world heritage status from Unesco. This was followed by a period working in the music section of INATEL, a public institution funding social access to culture and arts.
After leaving the Conservatório de Música de Lisboa, his musical direction was centered around extra-occidental music languages, along with incursions into jazz studies. Everything changed in 2012, when he encountered free improvisation at the MIA Festival in Portugal. Since then, he has been totally committed to discovering new processes of creating and composing music, whilst, at the same time, exploring new concepts of musical performance.
He collaborated as co-creator, composer, musician, actor, musical director in a variety of well received productions, such as: "A Fábrica de Nada", 2005, and "A Máquina Hamlet", 2020 - Artistas Unidos; "Agora eu era", 2007, Companhia do Chapitô; "Para Acabar, a partir de Artaud", 2014; "A África de José de Guimarães", 2012, Jorge Silva Melo (video documentary); "Parece que o Mundo", ACCCA/João Lucas, 2018, (contemporary dance), among others.
He has also been active in developing multidisciplinary projects, such as his collaborations with Margarida Mestre and Constança C. Homem. He is the curator and composer of the cycle of performances called "Golfo Místico", at Zaratan, Lisbon, having already presented 9 totally different shows since 2017. His most current projects are his work with the free jazz trio "GALMADRUA", and his duet with fellow bassist, Hernâni Faustino.
João Madeira formed the idea of "Quartet Exquis" as a result of the Covid-19 crisis, and used the social restrictions that were imposed by governments to develop the novel compositional process used in their recordings.